EXP Study UK is certified by British Council as Authorised British Council IELTS Thailand Registration Center.
IELTS's details, IELTS type, IELTS score scale, IELTS testing schedule, IELTS testing vanue. Information about IELTS for student, people, schools and organizations.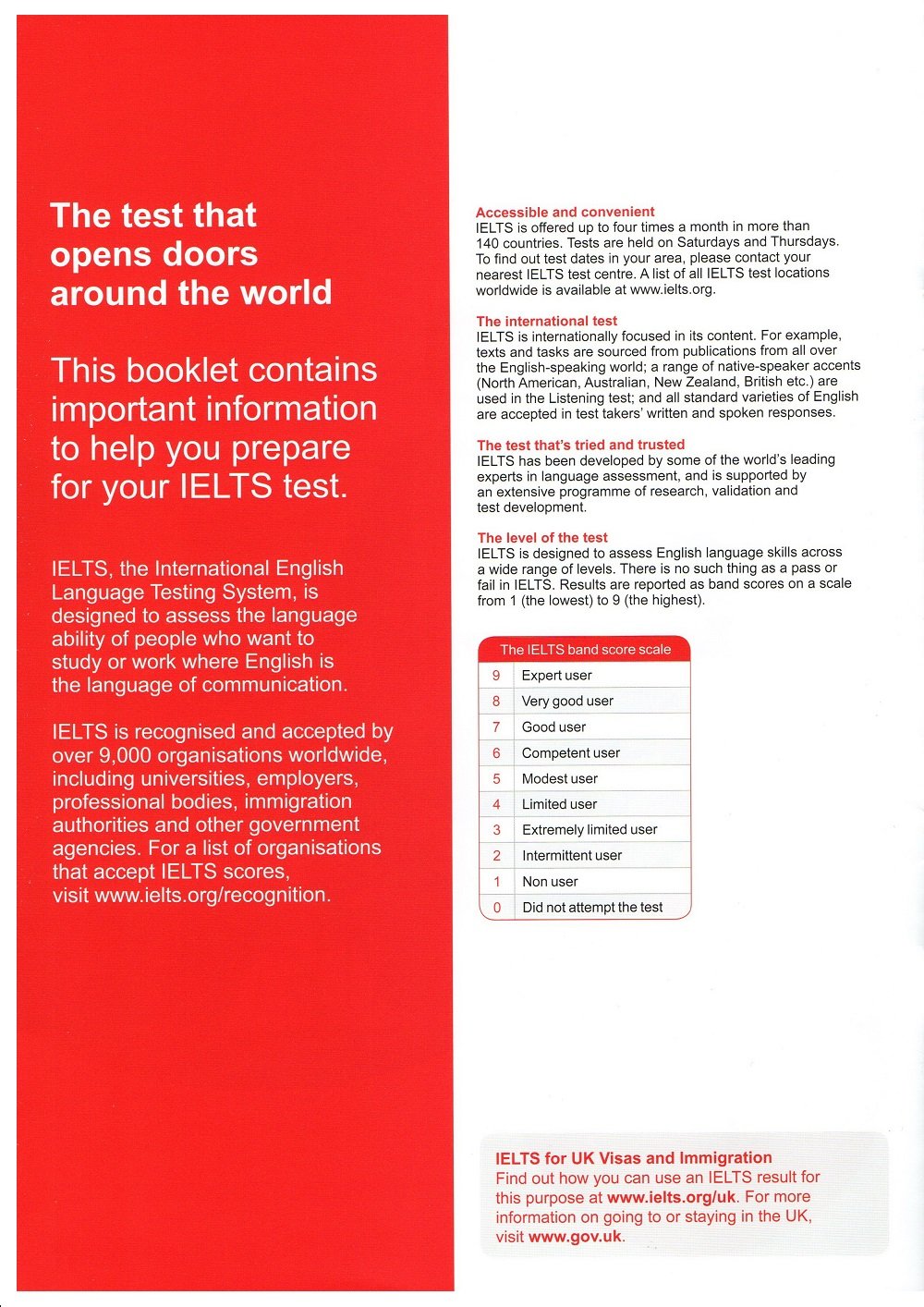 The test that Opens doors around the World
This booklet contains important information to help you prepare for your IELTS test.
IELTS, the International English Language Testing System, is designed to assess the language ability of people who want to study or work where English is the language of communication.
IELTS is recognised and accepted by over 9,000 organisations worldwide, including universities, employers, professional bodies, immigration authorities and other government agencies. For a list of organisations that accept IELTS scores, visit www.ielts.org/recognition
Accessible and convenient
IELTS is offered up to four times a month in more then 140 countries. Tests are held on Saturdays and Thursdays. To find out test dates in your area, please contact your nearest IELTS test centre, A list of all IELTS test locations worldwide is available at www.ielte.org
The international test
IELTS is internationally focused in its content. For example, texts and tasks and tasks are sourced from publication from publications all over the English-speaking, world; a range of native-speaker accents (North American, Australian, New Zealand, British etc.) are used in the Listening test; and all standard varieties of English are accepted in test takers' written and spoken responses.
The test thai's tried and trusted
IELTS has been devaloped by some of the world's leading experts in language assessment, and is supported by an extensive programme of research, validation and test development.
The level of the test
IELTS is designed to assess English language skills across a wide range of levels. There is no such thing as a pass or fail in IELTS. Results are reported as band on a scale from 1 (the lowest) to 9 (the highest).
The IELTS band score scale

9

Expert user

8

Very good user

7

Good user

6

Competent user

5

Modest user

4

Limited user

3

Extremely limited user

2

Intermittent user

1

Non user

0

Did not attempt the test
IELTS for UK Visas and Immigration
Find out how you can use an IELTS result for this purpose at www.ielts.org/uk. For more information on going to or staying in the UK, visit www.gov.uk

สามารถดูรายละเอียดได้ที่ คลิก